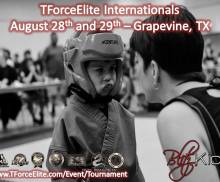 Expereience TForceElite Internationals! WHY?
With so many options in martial arts tournaments we are making TForceElite a tournament you will want to add to your schedule every year. Including:
~Over 200 divisions including Tricking, Stick Fighting and cont Sparring
~Sanctioned by 4 leagues (The League, TKO, PSKL, SKIL)
~Tied to 2 World Championship Leagues (The League, SKIL)
~Custom made medals for all competitors
~Major cash prizes & custom made grands awards
~Seminars with some of the greats including Caitlin Dechelle
~Convention Center atmosphere,
~Greatly discounted hotel rooms…$79/night @ new Comfort Suites including breakfast, shuttle and airport pick up.
~Something for everyone
Experience TForceElite Martial Arts Tournament…Click Link below and accept invitation to stay up to speed on all of the upcoming announcements!