TForceElite Internationals – Tournament, August 13, 2016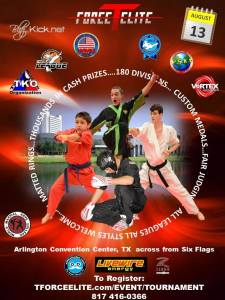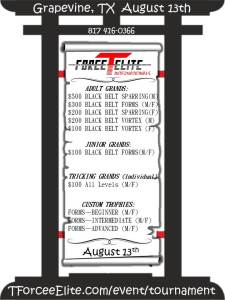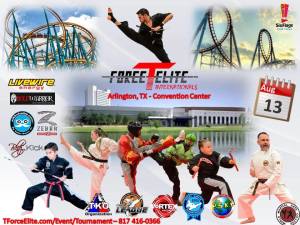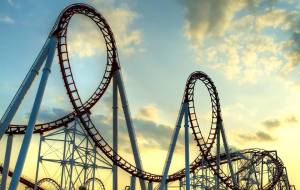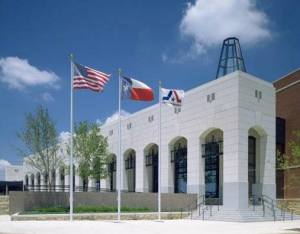 Facebook Invitation:  https://www.facebook.com/events/1475667412759414/
PLEASE PRINT FOR FULL LISTING OF TOURNAMENT DIVISIONS.  USE THIS AS YOUR GUIDE FOR ON LINE REGISTRATION:  2016 TFE FLYER REGISTRATION

Divisions:  
Traditional Katas
Traditional Weapons
Tricking Division (Weapon and Open Hand)
Musical Forms (With or without Music)
Musical Weapons (with or Without Music)
Point Sparring
Stick Fighting
Vortex Semi and Contact Sparring (See Rules and Requirements)
TKO RULES and REGULATIONS:    http://www.tkoleague.com/#!tko-rules/c21ue
STICK FIGHTING:  http://www.tkoleague.com/#!tko-rules/c4q3
CONTINUOUS SPARRING/VORTEX:  http://www.tkoleague.com/#!vortex-continuous-sparring-/c22u6
TOURNAMENT HOTEL:  $99 to $109/night discount code TFORCEELITE.  COMFORT SUITES Arlington, TX.  411 W. Road To Six Flags Drive  Arlington, TX 76011 Direct Line 817-962-0937.  This is prime season…these rooms will be $159 on the weekends without TFORCEELITE Discount.
Free Shuttle to Six Flags, Hurricane Harbor, Convention Center, Free WiFi and Continental Breakfast.
Black Belt/Judges meeting will start at 8:30 Sharp.  Tournament starts at 9 am.
This is the tournament you have been waiting for! Why? Top 10 reasons!
1. Open to all STYLES, all LEAGUES, all UNIFORMS. Come ready to compete with your style, your form, your sparring. Rules and Regulations and TKO schedule can be found at: http://www.tkoleague.com/#!tournaments/citr
2. There is something for everyone and every skill level from White Belts to Black Belts. Almost 200 divisions from point sparring, traditional weapons, semi contact sparring and stick fighting.
3. Major cash awards! $500 for adult male Sparring and $200 for Vortex Continuous, $300 Adult Forms, $200 Adult Female Sparring and $100 for Vortex Continuous, $100 for Junior Forms and $100 for individual Tricking.
4. TKO State Sanctioned and The League World Qualifier, WMO and WMO Worlds Qualifier in Spain, PSKL and SKIL and Super Grands. This tournament sets you up for State Championship Rings and World Championship Rings! Rings as on your finger!!! Also sanctioned by Iron Dragon TV and the World Martial Arts College
5. All the usual events and new events including Stick Combat Fighting, Vortex Semi- Contact Sparring and Tricking Divisions.
6. All Matted Floors in a Convention Center Atmosphere with Grand Championships on Stage.
7. All Custom Made Medals. Everyone who competes will receive one. Major prizes for Grand Championships.
8. Full Coverage by Blitzkick.net one of the premier martial arts video and picture promoters. Videos will be posted on line along with pictures at no cost to competitors. Get the publicity you deserve!
9. $30 for first event and only $25 dollars for each additional event!
10. Support me and TForceElite on our second major martial arts tournaments. I look forward to seeing all of the people who have trained with me, competed with me and the many schools I have visited.
Dates
Undefined table data
Location
Arlington Convention Center
411 W. Road To Six Flags Drive
Arlington Texas 76011
817-962-0937