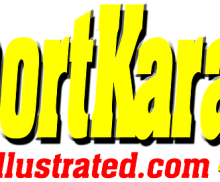 SportKarate Illustrated Magazine debuts Oct. 1, 2014!
Sport Karate Illustrated, LLC is proud to announce the debut issue of SportKarate Illustrated.com Magazine on October 1, 2014. Copies will be available initially at the BLITZ Championships and the Diamond Nationals the first and second weekends of October respectively. Afterwards, you can obtain copies of SportKarate Illustrated.com Magazine at most elite regional and national tournaments such as those sanctioned by NBL, NASKA, WKC and other well established leagues throughout South, Central and North America. The highly anticipated magazine will be published twice a year, every October and every April.
The publication will feature various competitor interviews, stories, sport karate related columns, list of current title winners/world champions (from well established and widely recognized leagues) and martial arts related advertising in every issue. The publication is not affiliated with any league and covers sport karate in general.
The main goal of SportKarate Illustrated.com Magazine is to give sport martial arts a print media venue to highlight accomplishments and feature news within the sport…a medium that both competitors and promoters have lacked throughout the years on a consistent basis.
We will attempt in the next issue to feature more topics, player coverage and advertising from more diverse spectrums of sport karate and from a vast array of leagues. With the first issue, we got it off the ground and believe that it shows promise to be a viable and reliable print-media source for general sport karate "feature" news and information.
Certain excerpts of the magazine will be available digitally on this website on October 1, 2014 to serve a a preview and taste of what's inside. However, the whole magazine will not be available in its entirety online until after 6 months of each initial press release date and the printing of each subsequent issue.
Sport Karate Illustrated, LLC does not take or handle subscriptions. However, if you'd like a copy (limit 2) mailed to you, we will gladly mail you a copy. Click on the menu link above entitled "Request A Copy" for more information.